Mining
Sector overview
The Metals & Mining industry broadly refers to metals and minerals extraction (mining) and the primary and secondary processing of these metals and minerals. The industry is very global in its structure and a few producers accounting for a lion's share of the output. 
Diversified Metals & Mining companies supply commodities used in products and equipment found in a wide variety of sectors, such as construction, automotive, aerospace, and telecommunications. The reach is so broad that the utilization rate of metals is a key barometer for gauging the health of the global economy. Scarcity of talent is part of the sector's human capital challenge.
Key Recruiting Challenges
Increased competition for skilled labour.
Severe skills shortage and restricted talent pools.
Remote and difficult locations with challenging living and working conditions.
Challenges with attraction and retention of key talent.
Loss of executive and operational knowledge, due to poor retention rates and retirement.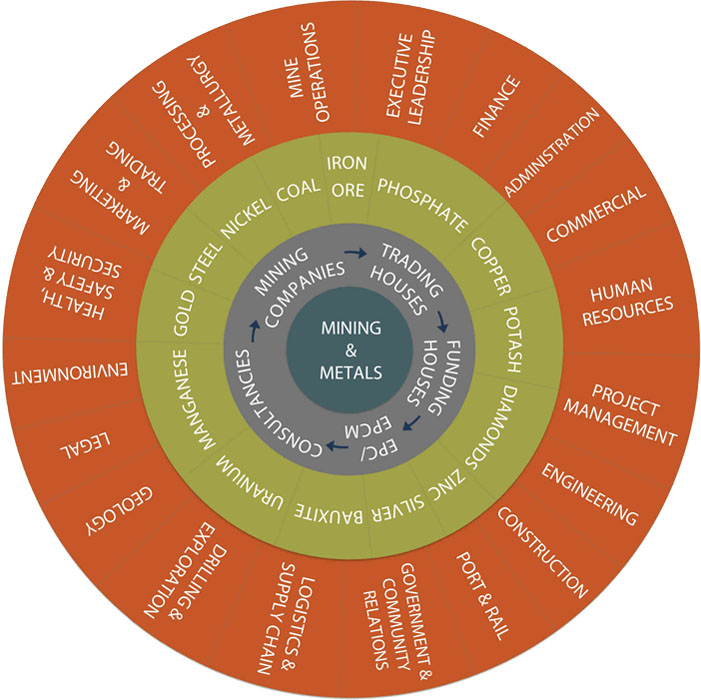 What we can offer
Mining and Metals is one of our core sectors and we have built a very strong reputation in providing talent acquisition solutions across the mining value chain. We have offered our services to funding organisations, operating companies (majors, mid-tier and juniors), consulting firms and engineering contractors.
We are well positioned to engage with talent at the mid to senior level across all functional areas.  We have been particularly successful in sourcing the best talent for business critical roles that requires a combination of strategic, operational, project leadership skills.
We proactively identify and assess mid to senior level executives, project and functional leadership, and conduct assessments to understand culture fit analyses for mining organisations around the world. We can also provide strategic advice, practical insights and sector perspectives form a talent acquisition perspective